The lovely Rachel shared this blog post featuring us and we couldn't not show you all.
Rescue spotlight - UK Boston Terrier Rescue
10 April 2023
|
charity, dog, dog friendly, rescue dog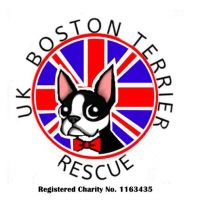 Having spent the first part of my career working with rescue dogs, initially for the RSPCA in Blackpool, and then for Dogs Trust, when I set up Nose to Trail in 2020 I was keen to still keep a connection with the rescue dog world.
As part of this I offer 10% off behaviour case fees for dogs who have been adopted from a rescue or rehoming centre.
The other way that I keep up my rescue contribution is by supporting some of the local rescue centres, often with fundraising and donations but I also do some work with some of the smaller breed specific rescues in the UK.
One of these is UK Boston Terrier Rescue. I have done behaviour cases for some of their dogs over the last year, if you follow my social media accounts you may even have seen some of them being crowned Star Student! In this blog I'm going to introduce the rescue to you along with letting you know how you can help to support them. 
UK Boston Terrier Rescue is a registered charity, (1163435) rehoming Boston Terriers and Boston Terrier Crosses as well as other brachycephalic breeds from around the UK.  They have no static premises so instead use an army of Foster Homes and Volunteers from around the UK to asses, home check, transport and adopt dogs - if you could help with this, they would be delighted to hear from you! 
They offer support, help and advice to Boston Terrier Owners and offer a lifetime backup service for all fostered and adopted dogs. Which is something I feel is really important with a rescue organisation as sadly so many of my clients, of many different breeds, have been adopted from rescue centres who have not provided any level of post adoption support even with dogs with complex behavioural needs such as separation anxiety, fear based aggression and sound phobias. This can be a very challenging situation for owners to find themselves in especially with the costs that a behavioural referral can incur.
Earlier this month I caught up with Rose from the rescue to find out more about how can people support the rescue at this time. Rose volunteers with the fundraising part of the rescue and this is vital at the moment as the number of Boston terriers being surrendered is growing year on year, so the costs to the charity are very sadly growing at a time when society is struggling to have free funds to be donating. 
Rose told me: "UK Boston Terrier Rescue can be found on Facebook, Instagram and on our website, which has a shop, run entirely by volunteers.
We have lots of ways supporters and followers can help raise money for UKBTR! 
We have Merchandise on our website, everything from Drinks Tumblers and Water Bottles to Trolley Tokens, Pens, Fridge Magnets and Boston Terrier Greetings Cards." 
There are lots of other ways that people can donate too, Rose told me more:
"We have our own lottery via OneLottery, Nectar Points can be donated to the rescue, We have our Facebook Auction with weekly items, Easy Fundraising where shoppers can raise donations with their online shopping,  Pets at Home as a VIP lifeline and collecting stamps".
Probably worth a side note here that any clients who see me in person for pet trailing or reducing reactivity classes are more than welcome to bring their stamps along to training sessions, I post mine to the rescue regularly so can easily send a big bulk of them along in one go! The dogs will be very grateful! 
Rose told me a final way that people can donate, which is through the VIP club and Facebook page.  The VIP club was a good way for the rescue to raise funds last year (and they are still trying to recruit more members this year).  The fee is £45 annually and the members receive some nice Merchandise and a quarterly newsletter. The newsletter contains seasonal information e.g. spring flowers/bulbs that are poisonous, things to watch out for when walking e.g. sheep, lambs, wayward squirrels etc, some adoption success stories and some shopping offers so whether you have a Boston Terrier or not, there will be some interesting dog content in there for you! 
That's all for this blog but I'll be back with more on UK Boston Terrier Rescue soon. In the meantime, why not head over and find them on their socials. Even something as small as taking the time to share the posts of their dogs who are looking for forever homes makes a difference! If you're a current Nose to Trail client and you would like to shine the spot light on the rescue centre your dog came from them drop me an email to info@nosetotrail.co.uk and we can get something together!